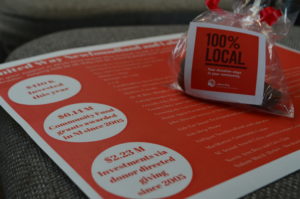 United Way Newfoundland and Labrador is 100% local. We are focused on increasing the organized capacity of people to care for one another – in our province. We strive to create a common ground where labour, business, community leaders, and government come to the table to identify needs and solve problems. Instead of focusing on 1 problem or issue in the community, we focus on many. We aim to help build, idea-by-idea, solution-by-solution, the communities of tomorrow, delivering health and social services from prevention, to counseling, to crisis intervention addressing human issues, large and small, helping individuals and families in Newfoundland and Labrador to be their best.
At United Way, we take community seriously. Community Building is the essence of our organizational mandate. To do this, we rely on the generosity of our donors and our workplace partners. This in turn allows us to invest strategically in programs and services being offered throughout Newfoundland & Labrador. As we prepare to enter our 2019 campaign/fundraising period, we took 90 minutes on Tuesday September 10th to celebrate the workplaces, community partners and individuals that make our work possible. Its what we call "The Most Wonderful Day of the Year!".
At this year's Community Celebration, we brought together the 45 amazing organizations who received funding this year and some of the people who help make this all happen – representatives from some of our fabulous workplace donors. Please see 2019 Community Fund Recipient list for the organizations that received a Community Fund grant this year.
True partnerships are reciprocal and one of those truly mutually beneficial relationships is the one we hold with the Eating Disorder Foundation of Newfoundland & Labrador. To that end, United Way recognized the Foundation at the event with a Community Agency of the Year award, in recognition of the essential work they are doing in the community. The staff of the Foundation participates in every event United Way hosts, and are always available (even on VERY short notice) to be an Ambassador for our organization and has provided numerous Impact Presentations to our community partners.
Just as we value the relationships with non profit and charitable partners, we know that it is the workplaces that are the lifeblood of our work. They give us the resources to make our Community Fund investments. Within those workplaces, there are hundreds of volunteers. The Heart and Soul of the workplace campaign is the Employee Campaign Coordinator (The ECC) – the key volunteer who is responsible for planning, preparing, monitoring, analyzing and reporting on the campaign. Running a workplace campaign requires someone who is willing to devote their time to something that goes far beyond the two-week campaign period. Planning can begin weeks or months in advance, so time management and organization are two important characteristics of the ECC. But most importantly, the ECC must be a champion for the cause, they are someone who believes in what their workplace campaign means – that they are helping to make a difference. This year's Employee Campaign Coordinator of the Year award went to perhaps one of our biggest cheerleaders, Margaret Noel from the Department of Fisheries and Oceans. Margaret has been involved as a volunteer for a few years and embodies all that an employee campaign coordinator should be. Positive, energetic, cheerful, a go getter and someone who recognizes what supporting the campaign is all about and what it means to the organizations that receive our support. She is a true champion, with a heart of gold, and an unwavering source of enthusiasm.
We also had the opportunity to recognize many of our workplace partners and donors, and brought them face to face with the organizations that benefit directly from their generosity. From traditional workplace campaigns to innovative funding partnerships, we have been able to build relationships based on trust and accountability. This community event is about just that – being accountable to our donors, and ensuring that they know EXACTLY where their donations are being invested!
Stay tuned for a busy Fall campaign season, and again, thank you to EVERY individual that makes the choice to support their community. ♥
/Tammy Davis, Executive Director