Giving Tuesday is one of the biggest days of the year for non-profits, charities, and volunteer groups across the country. Each year, the Tuesday that follows Black Friday has been recognized as a day to give back to our local communities in a variety of different ways that show our local love. What started as a movement to give back each year has grown to also support causes that push back against the consumerism that surrounds the holiday season.
See below if you're looking for ways to get involved and support your local community this year. Here are some ways to give back on November 30th:
Reach out to a neighbour in need: send a card, cook a meal, bake some treats, or even call to check in and say hello.
Show some gratitude to our front-line workers by dropping off tea or coffee (or a thank you note) to your local clinic or other space to spread some cheer.
Add a #GivingTuesdayCA Facebook frame to your profile to show you're giving back, or add the same kind of filter to your Instagram story.
Share your Giving Tuesday story by posting an #Unselfie. This is a post on social media that shares a message about why you give back. You can download a template to help with this here.
Set a donation goal for yourself to complete on the day or in the time leading up to it. Pledge to donate half of your tips you receive that day or a percentage of that days sales to a local non-profit you are passionate about.
Spread kindness in your community with your art by creating a sidewalk chalk design or by leaving small notes of kindness behind wherever you go on the day.
Share the good news stories on social media, and be sure to tag us in the amazing work you do!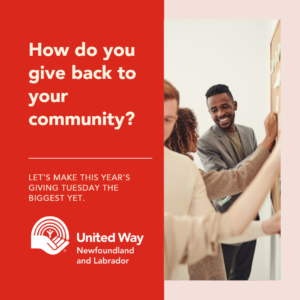 We have been showing #LocalLove since the very beginning here at United Way Newfoundland and Labrador. Like every year, we'll be celebrating Giving Tuesday and showcasing as many different acts of kindness we can on our social channels and in our own work. We can't wait to see the love this month!